Tests
Dark Side Styles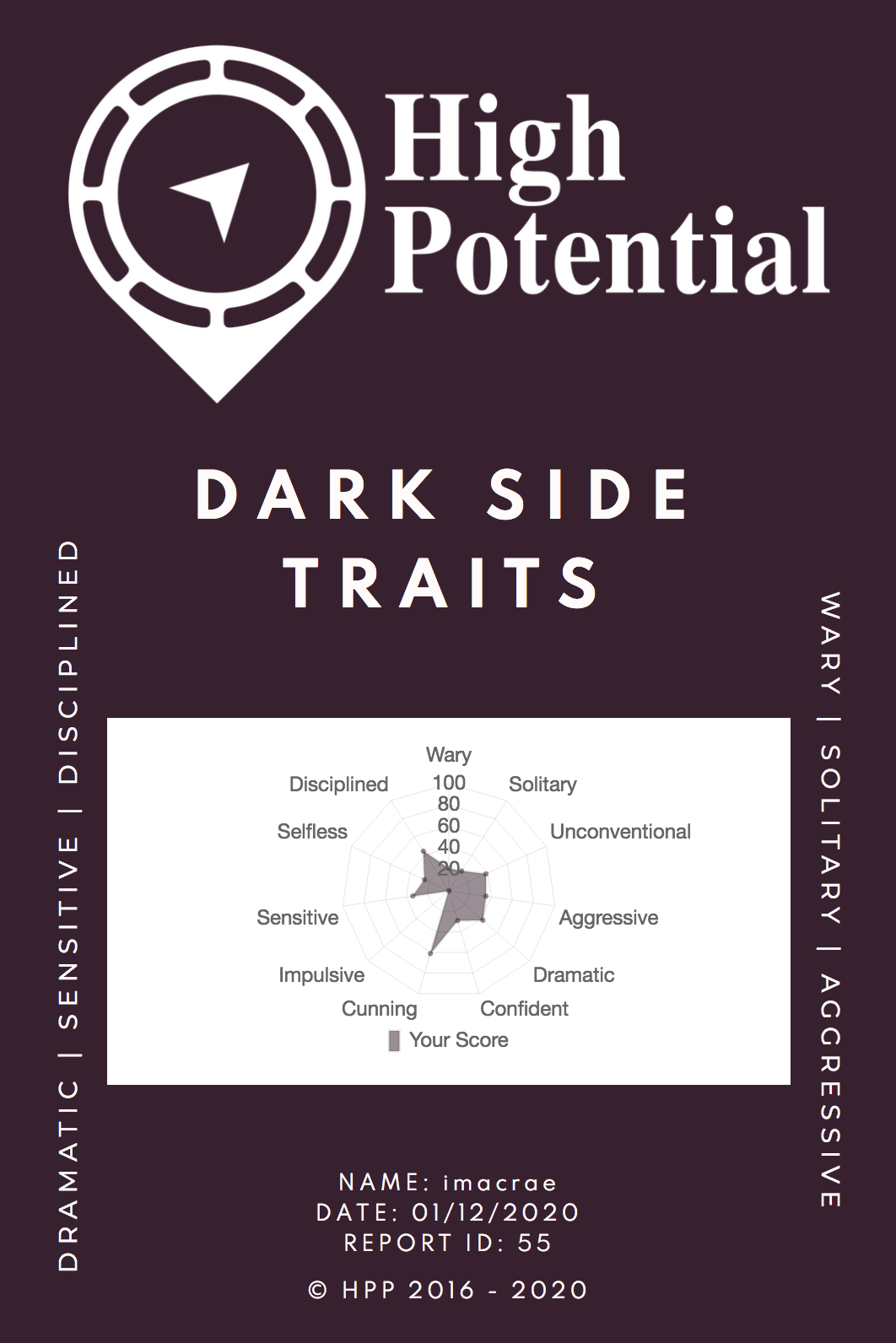 Take the dark side test and get your report now.
This report measures 11 workplace personality styles that  identify your potential dark side or derailers in the workplace. These are personality styles that may help you in your life, your work or your relationships but could also lead you to derail or fail.
The dark side styles identify different styles of thinking and behaving that are likely to create problems or conflict when someone is faced with high levels of stress.
In this report, each personality style has a description of how people with that style generally act and behave at work, along with positive and negative aspects of that trait. It shows your score, in comparison with the average population score.
Why Look at the Dark Side?
There are many reasons to understand your own dark side and derailment potential, but the two most important reasons for understanding at work are:
1. Improving performance, using strengths. Each of these different styles comes with some benefits as well as risk factors. Understanding the bright aspect of your 'dark side' can help you to channel your efforts effectively and get the best out of yourself at work. If you understand how your style affects your relationships, your performance and your own well-being you can come up with adaptation strategies and ways of using your natural ways of thinking and acting to your advantage, or find the work and situations where they can be effective.
2. Self awareness and reducing derailment. One of the best way to prevent yourself going "off the rails" in extremely stressful or difficult situations is to understand the ways you are likely to react when you are struggling to cope is to be aware of some of the more counter-productive or even destructive behaviours that you might be prone too. Since these styles can be deeply ingrained, it's good to recognize the signs and work to mitigate the negative effects before they make situations worse for yourself or the people around you.
Motivation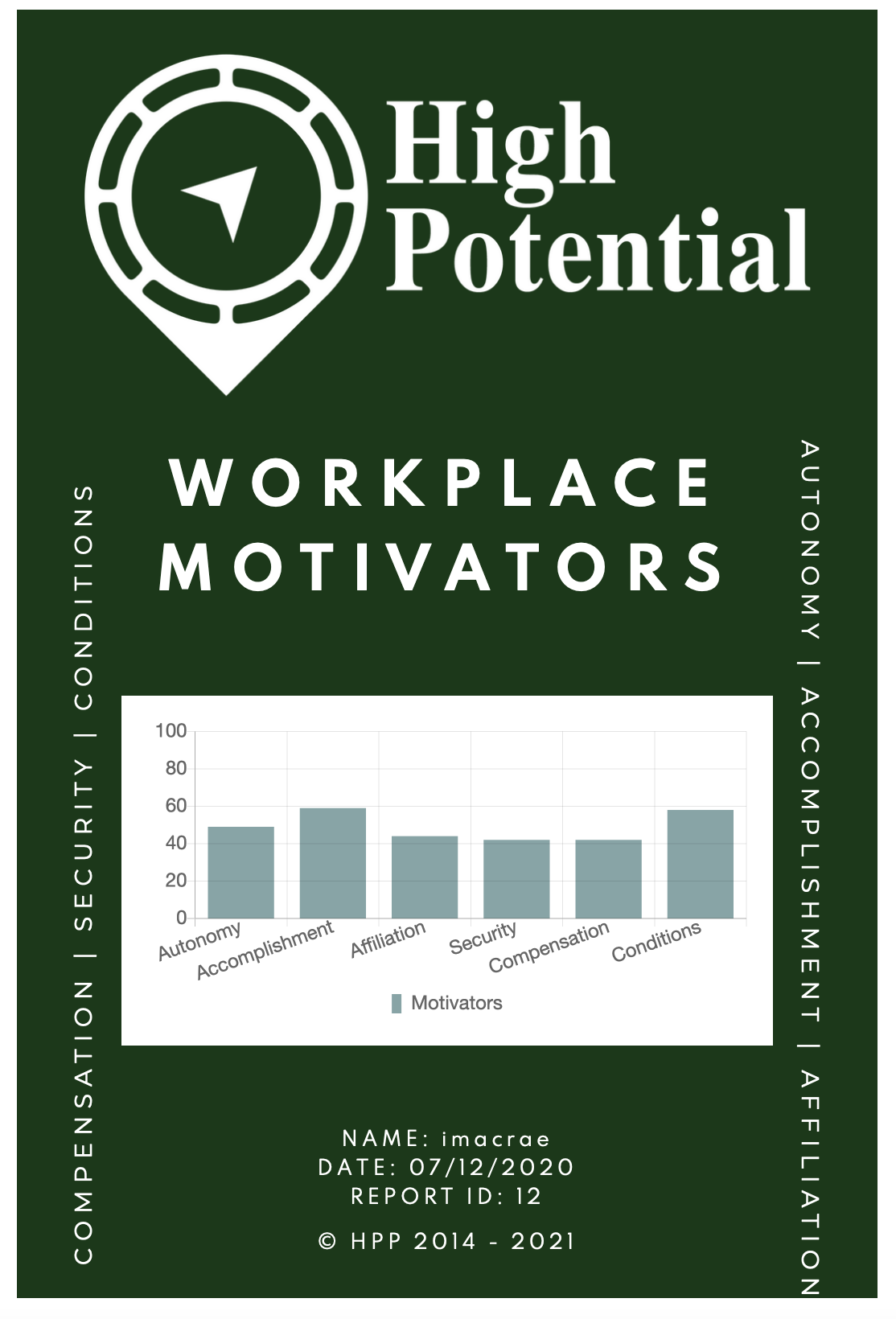 The High Potential Motivators Report measures six values factors relevant to work and motivation. Values explain how relevant, important or necessary different motivators are to an individual's work. Alignment between values and motivators at work is an essential component of job satisfaction and work engagement. Values influence decisions and relationships. People tend to (but do not always) make decisions that align with their values. Most people prefer to form closer relationships with people that share their values and may distance themselves from those with very different values.
There are no "right" or "wrong" values, values are personal preferences.
Values tend to be linked with perception and ways of thinking. Thus, someone's values can be rooted in very different situations or ways of looking at the world. For example, feeling very wealthy may lead one value pay, compensation and financial perks. Whereas for some, feeling well-off financially may lead one to value other things at work when money is not a concern. Feeling short of money may also lead one to value financial compensation over other benefits. The rationale behind values is equally important to values themselves.
Values are judgements about what is important to people, and what motivates them. These are the value people place on different motivators. The values can be classified according to two key factors: intrinsic and extrinsic values. Intrinsic values are related to internal rewards obtained for their own sake or through the course of the job. Extrinsic values are related to seeking external rewards or avoiding punishment.
Values can change over time, and can be influenced by work, rewards, colleagues, social groups and many other influences. Take the test and get your results now.
Resilience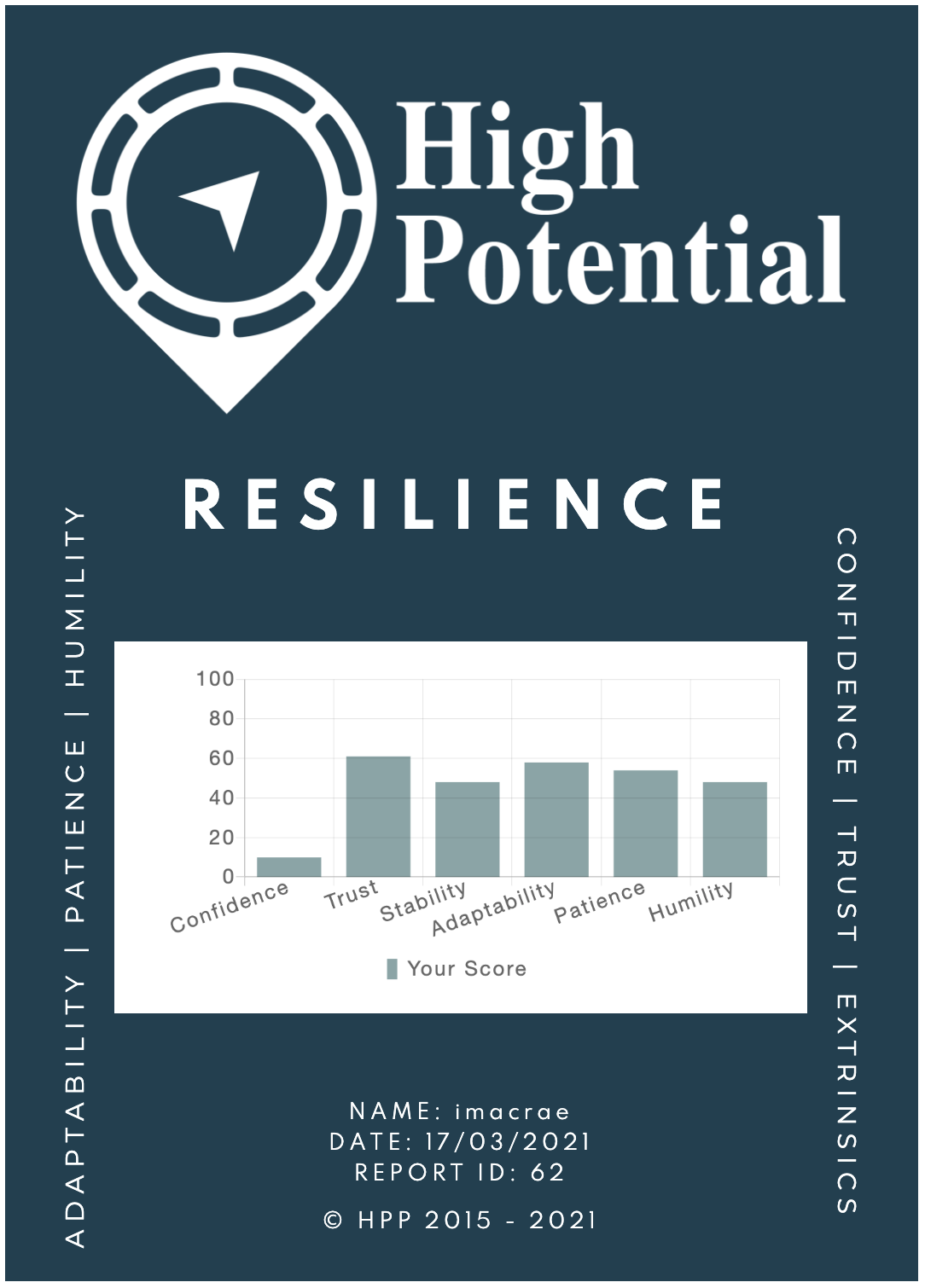 Resilience draws on components of personality, values and motivation. Resilience describes one's ability to adapt to stress, adversity and change. The High Potential Resilience Report measures facets of resilience, and identifies potential threats to resilience at work. Take the test and see how your scores compare here.
Higher scores in the particular facets indicate higher resilience, whereas lower scores indicate potential threats to resilience. Lower scores are not necessarily a weakness in most jobs and circumstances, but indicate the potential routes to derailment in times of uncertainty or adversity. They also indicate which types of uncertainty or adversity could be the greatest threat to one's psychological resilience and well-being.
For example, some individuals who tend to be mistrustful of others may generally perform well, but in times of uncertainty may be more likely to have relationships deteriorate and be more prone to alienation. Whereas those who place significant value on financial stability can be most threatened by periods of financial instability.
Resilience tends to be linked with various other psychological constructs, from personality to individual values. Thus, some people may be predisposed to being more self-confident or humble but resilience can vary greatly and depend on personal and career circumstances, financial circumstances and many other factors.
Resilience can change over time, and can be influenced by work, rewards, colleagues, social groups and many other influences.
Coming Soon
More tests coming soon.