Background
High Potential started in 2014 to develop and distribute psychometric tests. In 2014 and the early years of High Potential, the primary psychometric tool was the High Potential Traits Indicator (which is now distributed by Thomas International).
High Potential has been developing new psychometrics ever since, including: Motivation, Resilience, Engagement, Adaptation Strategies, Dark Side Personality styles and more. Check out what's currently available to try on our website in the Tests section.
We have used our psychometric tests as well as bespoke assessments with small businesses and consultants, FTSE100 companies, non-profits and militaries around the world.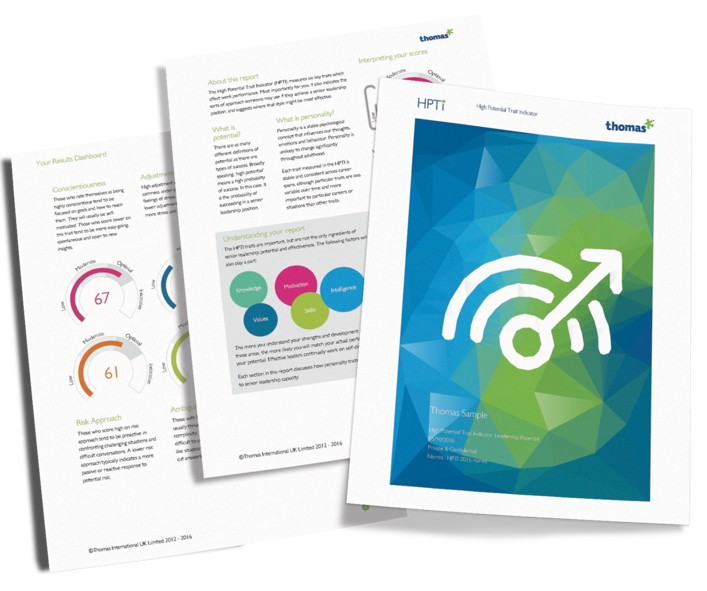 HPTI (2011- )
The HPTI started  preliminary testing and development in 2011 and was then made commercially available in 2014 through High Potential Psychology. Then, in 2016 Thomas International became the exclusive worldwide distributor of the HPTI.
The High Potential Trait Indicator (HPTI) is a workplace personality assessment grounded in the 'Big 5' model, assessing traits that predict job success and risk for derailment.The HPTI offers a unique and nuanced opportunity to predict both performance and potential at work. Measuring personality traits as stable characteristics distinguishes what cannot be taught or changed (personality) from that which can be taught such as knowledge and experience.
The HPTI assesses potential along six key personality traits:
Conscientiousness: Those who rate themselves as being highly conscientious tend to be focused on goals and how to reach them. They will usually be self-motivated Those who score lower on this trait tend to be more easy-going, spontaneous and open to new insight.
Adjustment: High adjustment scores suggest calmness under pressure and fewer feelings of stress. Those who report lower adjustment tend to experience more stress and worry.
Curiosity: Those with high curiosity scores often like novelty, learning and variety. By contrast, lower curiosity suggests a liking for tried and tested methods and consistency.
Risk Approach: Those who score high on risk approach tend to bring a reasoned and rational approach to difficult situations and conversations. A lower risk approach characteristically indicates more instinctive or emotional decisions.
Ambiguity Acceptance: Those with high ambiguity acceptance usually thrive on uncertainty and complexity. Those who find it more difficult to cope with ambiguity may like situations where there are clear-cut answers and solutions.
Competitiveness: High competitiveness scores are typical of people who enjoy positions of power, influence and recognition. Less competitive people prefer cooperation and collaboration; they may dislike the spotlight.
Contact us to ask about using the HPTI, or bespoke assessment, tools and advice to use the HPTI for projects such as:
Industry, sector, organizational or team benchmarking
360 assessment and feedback
Team or group reports
Bespoke HPTI assessment processes for selection, recruitment, development, retention or succession planning.
Motivation and Resilience (2014 - )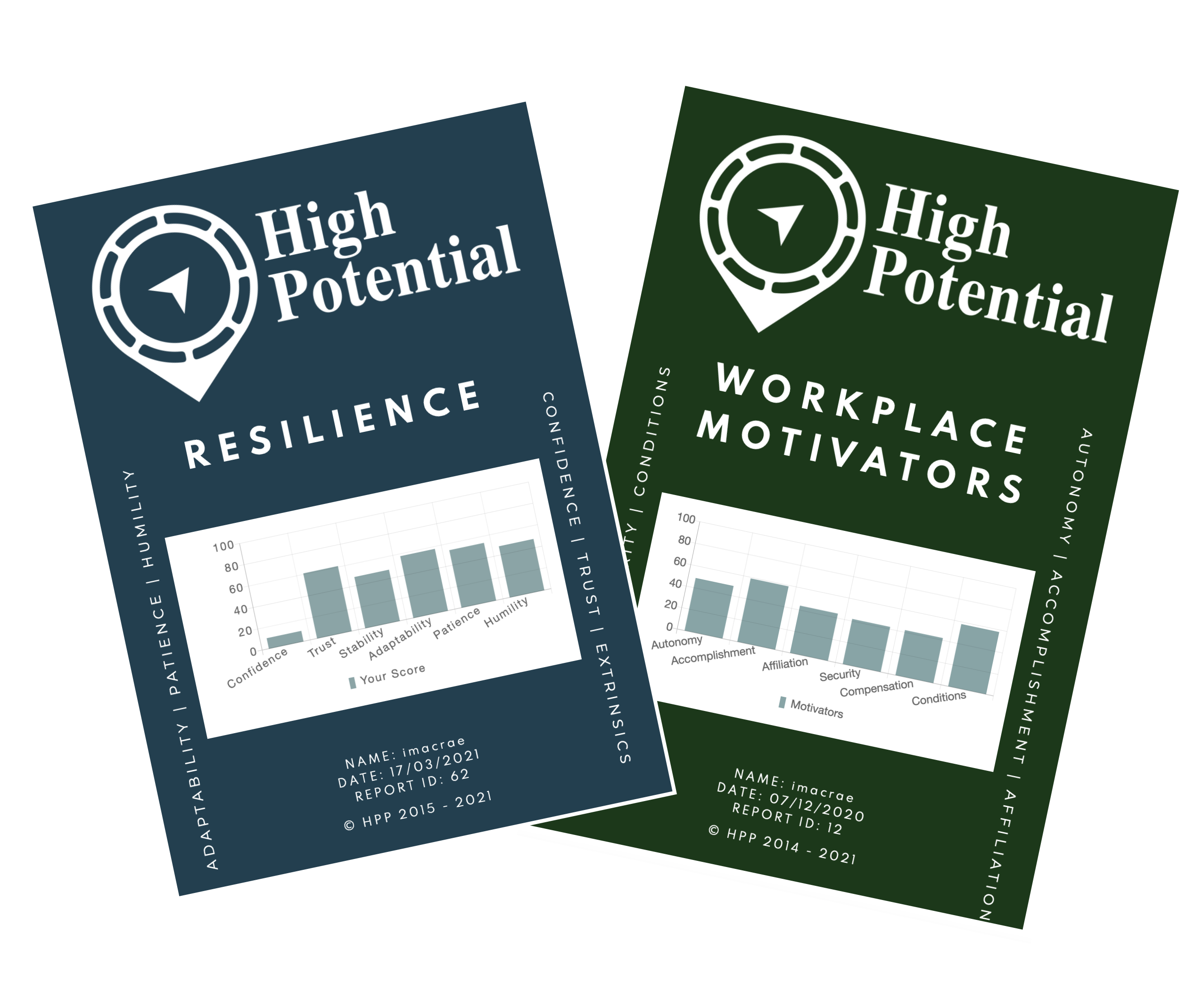 From 2014-17  High Potential began developing a wider suite of assessments, including the development of Motivation and Resilience tests.
The High Potential Motivators Report measures six values factors relevant to work and motivation. Values explain how relevant, important or necessary different motivators are to an individual's work. Alignment between values and motivators at work is an essential component of job satisfaction and work engagement. Values influence decisions and relationships. People tend to (but do not always) make decisions that align with their values. Most people prefer to form closer relationships with people that share their values and may distance themselves from those with very different values.
Values are judgements about what is important to people, and what motivates them. These are the value people place on different motivators. The values can be classified according to two key factors: intrinsic and extrinsic values. Intrinsic values are related to internal rewards obtained for their own sake or through the course of the job. Extrinsic values are related to seeking external rewards or avoiding punishment.
Try the Motivators test, and get your free report instantly here.
Resilience describes one's ability to adapt to stress, adversity and change. The High Potential Resilience Report measures facets of resilience, and identifies potential threats to resilience at work. The six components of this resilience measure look at:
Confidence describes how positively you perceive yourself. Those with higher confidence tend to see themselves more positively, experience less self-doubt and are less worried about how others view them.
Trust describes whether you tend to have an optimistic or pessimistic view towards others. Those with higher trust scores tend to see others as generally having good intentions, while those with lower trust scores tend to be careful about the motives of others.
Stability explains why those with higher scores place less value on com pensation, stability and financial rewards. Those with lower scores place more value and importance on the financial rewards of work.
Adaptability describes the personal importance and rel evance of safety, security and stability at work. Those with higher scores are more resilience to change and insecurity. Those with lower scores may be less resilient during instability at work.
Patience describes how strongly one feels the need to work hard to earn one's keep. Those with higher responsibility scores may be prone to over compensating. Those with lower scores tend to prefer rapid advancement and have greater need for recogni tion and praise.
Humility describes how strongly one feels the need to fit in, be part of the group and be modest about personal achievements. Those with lower scores desire praise and recognition for their work and unique abilities.
Try the Resilience test, and get your free report instantly here.
High Potential Edition 2nd  Edition (2018)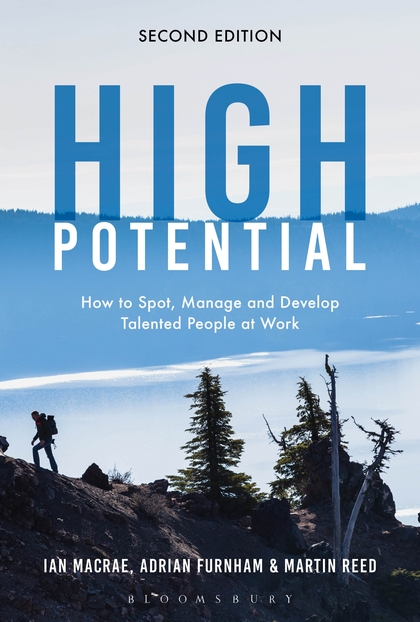 We released an updated edition of High Potential: How to spot, manage and develop talented people at work (Bloomsbury, 2018) to reflect the latest developments in organisational psychology and talent management.
The book covers crucial topics such as understanding high potential personality traits, a detailed analysis of what factors make a good employee or a great leader and insight into why people choose to leave or stay at a company, High Potential is key reading for anyone looking to develop and nurture future talent in the workplace. It outlines the skills for:
•    · Clearly understanding and defining potential
•    · High flying personality traits to look for
•    · Selecting positive high potential traits and weeding out traits like manipulation, superficial charm or narcissism
•    · The best assessment and management methods
•    · Managing high potential employees and developing their careers
So what's new in the second edition?
More Practical Tools
High Potential is written to be an engaging and practical book with ideas and tools to be used in the workplace. The second addition puts even greater emphasis on turning ideas into practical and feasible action in the workplace. Leaders, HR departments and anyone interested in improving work will find the real-world examples help to show how to bring best practice to life.
New Examples and Case Studies
Case studies and profiles of businesses are used throughout the book, using examples from different industries, departments and individuals. The new edition of High Potential introduces even more company profiles and individual case studies including a psychometric profile of a former world leader, an analysis of the personality of a good leader and examples from business.
Emerging Trends Explained
The world of work is rapidly changing, and workplace tools and resources are developing at a rapid pace. The insights from Big Data, new developments in personality testing and behavioural analytics have come a long way in the four years since the first edition of High Potential.
The second edition explore emerging trends in much greater detail, and looks to the technology, techniques and opportunities that are coming down the pipeline and continue to shape and change the world of work. The second editoins spends more time talking about digital communication, social media, remote work and evolving social and workplace trends.
Increased Focus on the High Potential Traits Inventory
Since the High Potential Traits Inventory (HPTI) was introduced in the first edition of High Potential, tens of thousands of people have completed the HPTI, and further development has made the HPTI an even stronger tool for identifying and working with high potential in the workplace. The new edition of High Potential integrates the HPTI into much more of the book's content, providing a more holistic look at high potential in the workplace and how personality testing can be used effectively in the process.